BetSafe Sports Review
If you head online, you will notice that there are hundreds of online gambling sites. You have your big brands like Paddy Power and Sky Bet, you have your unknowns (we don't even know the names of them!), and you have some brilliant sites which have managed to slip under the radar. BetSafe is a site which certainly falls into the latter category.
Thankfully, you have landed on this page. This means that you will finally get to learn about what we, genuinely, think is one of the best online gambling sites around.
Betting Offers at Betsafe Sport
BetSafe does not offer massive promotions like some other gambling sites out there. However, let's be honest, you don't really sign up for the promotion. They tend to have rather strict terms and conditions which means you are never going to get hold of your winnings anyway. BetSafe seems to be very lax in this regard.
With BetSafe, you deposit £10 into your account and you get £30 in free bets. Not too bad. They do run smaller promotions from time to time. However, it is worth noting that the main intention of BetSafe is to offer better odds on the events they have, which means promotions are kept to the minimum.
Events & Sports Offered
We have seen some betting websites which put most of their focus on football. This is fine and all. Football is a fun sport and this is where most people will be placing their bets. However, sometimes you want something a little bit more exciting. You want other sports. BetSafe realise this.
As a result, they have created one of the better websites out there when it comes to events. There are over 30 different types of 'event' that you can bet on. All major sports are here, including a few unknown ones. On top of that, you can bet on television, politics etc. Basically, you are never going to run out of things to bet on.
Of course, most people are still going to be putting money down on football. Thankfully, football bets are well-represented. If you can think of a combination, then you are probably going to be able to bet on it.
One of the things about BetSafe that we find really, awesome is the fact that they have gone to great lengths to cover the leagues that other sites don't seem to care about. Imagine being able to bet on the Norwegian leagues! (yes, it is much more exciting than we make it sound)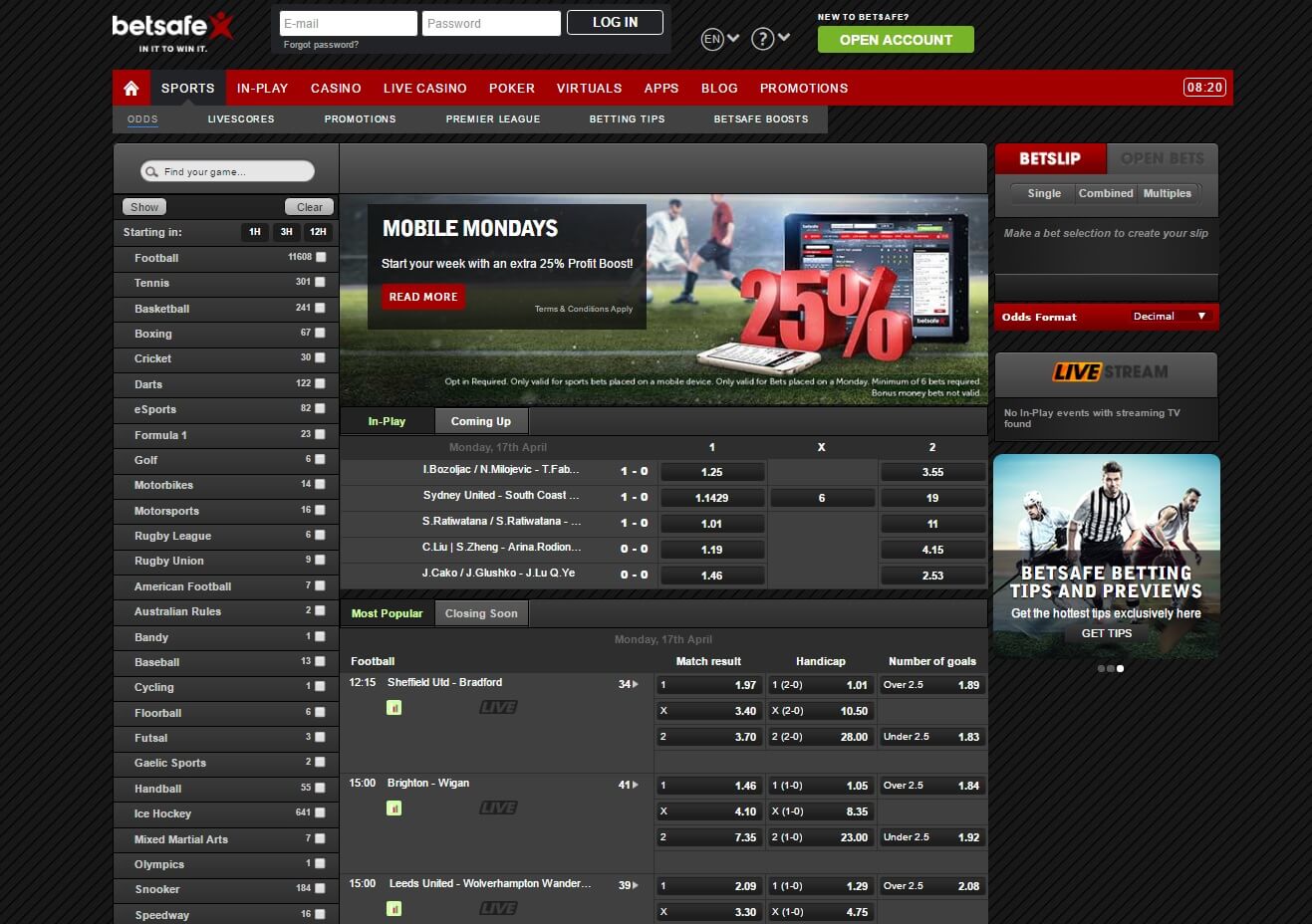 Live Betting
Betsafe is undoubtedly one of the best live betting sites. In addition to the whole 'bet before the game starts' thing, you are also able to bet while play is going on. This is known as live betting. Now, some websites out there, namely Bet365, allow you to watch some games on their site.
You can't do this with BetSafe, however, we do not see this as much of an issue. With BetSafe, you can expect more betting options. Really makes up for the fact that you can't 'watch' the game (you will be able to find other methods to do that anyway)
Betting Odds
As we mentioned previously; BetSafe does not focus heavily on promotions. This is because they want to ensure that they always offer decent odds on the events that they cover. Now, it is impossible for a betting website to always offer the best odds. If they get it right about 80% of the time, then we are fine with that. BetSafe seems to manage this! So, if you want to make the most money from your bets, then this is the online gambling site to head to.
Other Betting Options Available
This is primarily a betting website. However, we know that some people are going to get a hankering for something different after a while. You will be pleased to know that Betsafe also offers various casino gambling options as well. This does mean that you can play plenty of online slots, poker, blackjack, roulette, and other similar things so it's not really "just" a betting site it's more of a casino and betting site all rolled into one All casino games and poker games can also be played on your mobile device.
Conclusion
BetSafe is awesome. We know that we should probably whip out a thesaurus and look for a different adjective, but it really is just 'awesome'. From the moment you jump onto the site, you know that this is a place you are going to want to continue to gamble at. The company makes everything so easy. You have easy methods for depositing cash. They make it easy to withdraw. They make it easy for you to bet. Basically, they make it easy to have fun. Check it out!